Allow your busy workday to be interrupted by a relaxing and rejuvenating chair massage. Employers have rapidly begun to understand the importance of stress relief in the workplace because stress-free employees have a higher retention rate and increased rates of productivity. Corporate chair massage involves the visit of a Licensed Massage Therapist for on-site massage sessions. The therapist brings along a portable massage chair and usually gives 15 to 20 minute massages for all interested employees. Employees enjoy getting a break from the monotony of their day and can go back to work with increased mental focus and clarity and reduced levels of stress and anxiety.
Event Chair Massage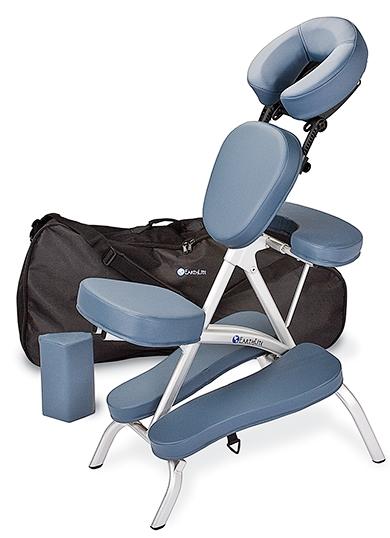 Want your next marketing event to be a big hit? Chair Massage draws prospects to your booth and makes sure they leave with a positive feeling about your company.
Chair Massage Remains Affordable Despite Tough Economic Times
Many people are experiencing added stress due to their unexpected, altered financial status as they watch their savings accounts dwindle while the cost of living rises. In these difficult economic times, it is important to keep stress from building to a point where it interferes with your physical and emotional health. Chair massage is an effective and affordable way to alleviate tension and stay healthy. Place receiving a regular massage on your priority list, and you will realize the benefits far outweigh the expense incurred. Improved emotional and physical benefits will add quality to your life. An energized, healthier person can face whatever challenges come far better than one who is anxious and/or depressed, tense and/or in pain.
Benefits of Chair Massage:
These combined benefits can help to promote emotional and physical health.
Massage reduces the release of the stress hormone cortisol, which is a factor in weight gain and depression.
Therapeutic massage stimulates the release of serotonin, which combats the effects of increased cortisol and helps to maintain a state of emotional well-being.
Massage is also an effective treatment for insomnia, and can help to reduce pain stemming from injuries or poor posture.
The immune system benefits from the enhanced drainage of lymphatic fluids, which carry toxins from the body.
Massage improves circulation, which helps to nourish the body's muscles and tissues.
For those who consider a traditional massage to be too expensive or time consuming, chair massage is a wonderful way to receive all of the benefits of massage therapy without breaking the bank. A Licensed Massage Therapist, who uses a specially designed massage chair, performs chair massage in a concentrated session, generally lasting 10-30 minutes. Oils are not used directly on the skin, which allows the client to remain fully dressed. The massage chair can support clients of all sizes and is designed to elongate the muscles of the back. The therapist concentrates on the back, neck, shoulders, arms and hands, relieving pain and releasing tension.